Press Page
The Balancing Act
Kathryn was interviewed on Lifetime Channel's
"The Balancing Act®
to discuss the facts about getting the help and support you need above and beyond the cancer community and healthcare system.
CURE Magazine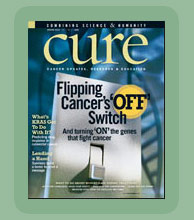 CURE (Cancer Updates, Research & Education) Magazine reached out to CNC™ Kathy Gurland as a resource, seeking her professional advice regarding individuals who must meet the challenges of cancer alone for their article
"On Their Own"
by writer Marc Silver.
The New York Times

New York writer and author, Tara Parker-Pope
profiled PEG'S Group Founder Kathy Gurland
in the popular Well Blog that appears daily in the Health Section of The New York Times.
New York Post
Kathy Gurland was interviewed for a story in the New York Post highlighting individuals who forged new careers later in life fueled by the desire to do something meaningful and to follow their personal passions.
Click here to download a PDF of this article.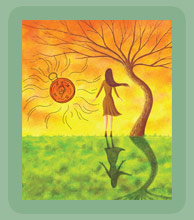 Women and Cancer Magazine
PEG'S Group founder, Kathy Gurland, was asked to write an article providing cancer navigating guidelines to the newly diagnosed by
Women & Cancer Magazine
., "A Survivor's Compass" was illustrated and published in the Winter issue featuring Donna Karan on the cover.
Click here to download a PDF of this article.
Additional articles from Women and Cancer Magazine:
A Survivor's Compass
Meet Your Social Worker
The Hospital Visit
Do It Your Way
Stepping Up to the Plate
What's in Your Wallet?
Insights Into Hospice
CancerConsultants.com
Kathy's article,
"A Survivor's Compass,"
was included in the Cancer Tips section of the well known comprehensive web site CancerConsultants.com
DUMBO NYC
A widely featured and popularly read local New York blog, DUMBO NYC, interviewed Kathy Gurland (read
Part I
and
Part II
here) when she launched PEG'S Group. This blog reports all local area developments, cultural events, movie shoots, festivals, etc., and promotes new small businesses that set up shop in this cutting edge neighborhood set between the Brooklyn and Manhattan bridges (DUMBO stands for Down Under the Manhattan Bridge Overpass).
NASW
Kathryn was invited by the National Association of Social Workers to be a panel expert in Los Angeles speaking before a group of screen writers at an event organized by the Writer's Guild.
Social workers speak to Hollywood.
Kathy was also invited to be on a four-member panel at an Entertainment Industries Council Inc. briefing on Women's Health at CBS Television City.
Screenwriter portrayal of women.
Social workers pitches womens health in Hollywood.
Urban Zen Food Solutions Workshops
Kathryn was an invited presenter at an
Urban Zen Food Solutions Workshops
in NYC, sponsored by at Donna Karan and funded by the
Palette Fund
.